LEWIS & CLARK, and THE RIVER OF NO RETURN WILDERNESS TOUR ~ July 08-17,2019
Explore hilltops and mountaintops (hikes optional)

Float (guided) down the Salmon River (options of oarboat, paddleboat, or kayak) 5 days camping in the wilderness

Straddle a source of the Missouri and Columbia Rivers

Travel by ten rivers play in four

Accomplish what Jeffy could not in his "Head & the Heart Letter"

Prepare Charboneau's recipe Bou din Blanc on the river with "two dips, and a flirt"

Enjoy fine dining along the Clearwater River with music & optional dancing

Campfires, storytelling, laughter and stars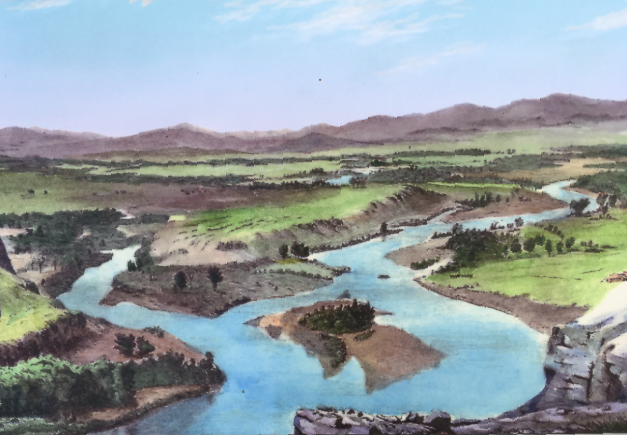 The Jefferson, Madison, and Gallatin Rivers meander to blend at THREE FORKS forming the "HERE-TO-FORE-ENDLESS MISSOURI," becoming North America's longest river at 2341 river miles.
Three Forks of the Missouri River
THREE BEAUTIFUL MEANDERING RIVERS JOIN TO FORM THE MISSOURI RIVER
You can only imagine the endurance and temperment of the men, of the Lewis & Clark Expedition pulling, dragging and slogging their way along these endlessly winding rivers hauling their declining cargo in canoes but not gaining distance hastily. So much happened at this location to the members of the Expedition before, during, and after their epic journey. For Sacajawea this is where she and Jumping Fish, five years prior, were abducted and taken to North Dakota by the Minatarees. Jumping Fish escaped. During the journey, this is where William Clark's feet broke down, and George Shannon, the youngest member, on August 6, 1805, got lost for the second time of the journey. Corps members John Colter and John Potts returned to this spot in 1809 and were attacked by the Blackfeet. Pott was killed. Coulter was stripped and told to run. The first night of your tour, Coulter returns to share how he escaped. As the sun sets, sitting along one of the meandering rivers, Allen Pinkham will recite the Nez Perce Creation Story. Relax at this peaceful setting, as the moon rises in the distance. Later in week, you will visit the birthmark.
Country of sacajawea's
youth
MUCH STILL REMAINS UNKNOWN ABOUT OUR NATION'S FAVORITE NATIVE AMERICAN WOMAN
Sacajawea has many names and spellings for her name. The Lemhi Shoshone and the State of Idaho call her Sacajawea. It is derived from the Shoshone word for her name, Saca tzah we yaa, meaning "to carry a burden". The Hidatsa from North Dakota, where she was taken in a raid as a small girl, call her Sakakawea (meaning bird woman). Lewis spelled out her name in his journals, Sah-cah-gar-we-ah. Nicholas Biddle, a classical scholar working from the captains' original longhand journal entries chose to spell her name Sacagawea because the Mandan-Hidatsa's do not have a "j" sound in their language. Contemporary Lewis & Clark scholars have agreed to refer to her as Sacagawea. Her descendants call her Sacajawea. Her other names found in the journals are "the Indian woman", "Sharbono and his woman", and "Janey". Debates continue on her name, and still continue on where and when she died. No one knows exactly what she looked like.
The Beaverhead, fortunate camp &
the great divide -
Join the fun:
Step into beautiful landscapes, hear about the history, enjoy fun adventure, as you peer into a different world - of not so long ago.